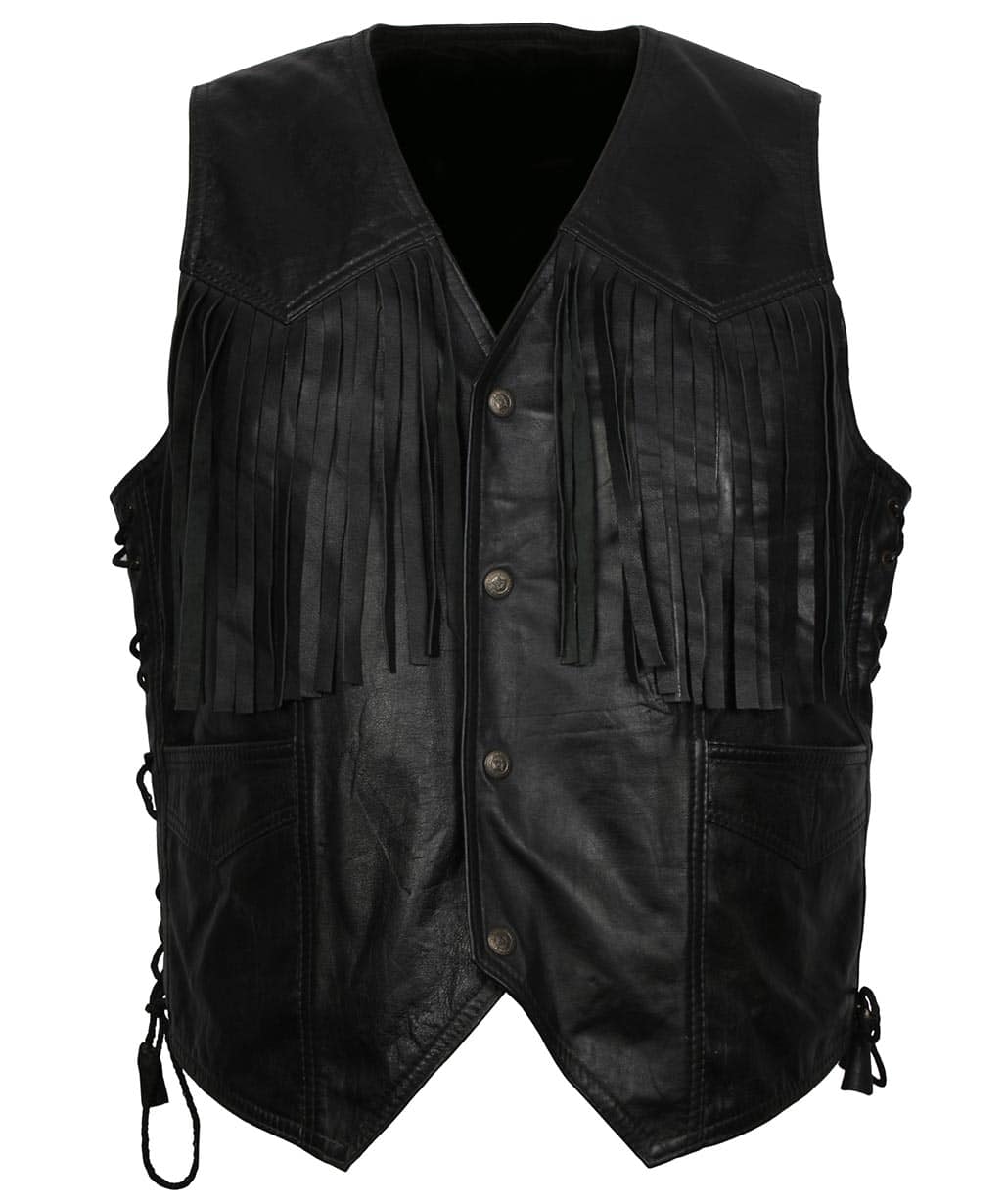 Men Western Cowboy Fringe Black Leather Vest
$139.00
Outfit Type: Cowboy vest
Material: Real Leather
Color: Black
Closure: Button closure
Inner: Soft viscose lining
Pockets: Two outside and two inside pockes
Adjustable lace on sides
Fringe design on front and back
Description
Size Guide
Reviews (0)
Description
Men Western Cowboy Fringe Black Leather Vest
If you ever want to dive into the wild west of style, here is the Men Western Cowboy Fringe Black Leather Vest. This isn't just an outfit, it's a ticket to cowboy cool that'll have you saying "yeehaw" in no time.
Crafted from real leather, this western cowboy vest is like the rugged companion you've been waiting for. The black color is as timeless as a desert sunset. While the button closure is the saloon door to style.
But here's where the fun kicks in – those fringes. Yes, fringes! They're not just design; they're a statement that makes everyone aware of your dramatic entry into the scene. Whether you're strolling downtown or on a quest for adventure, those fringes are your trusty companions.
And the soft viscose lining? It's a comfy campfire for your outfit. And pockets are the star of the vest – two outside and two inside. It's a treasure chest for all your modern cowboy essentials.
Did we mention the adjustable lace on the sides? It is a tailor-made fit for every gunslinger out there. It's not just a vest; it's a piece of clothing that carries a legacy.
So, if you've ever dreamt of roaming the open plains with a swagger that's as big as the sky, the Men Western Cowboy Fringe Leather Vest is your golden ticket. It's more than fashion; it's a slice of Western spirit. Get ready to show the world your inner cowboy, partner!
Size Guide