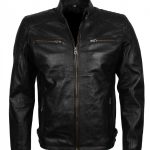 Men's Black Genuine Leather Quilted Jacket
$159.00
Description
Jacket Care
Size Guide
Shipping & Return
Reviews (0)
Description
Men's Black Genuine Leather Quilted Jacket
Picture yourself amid a thrilling chase through the city streets, the sound of screeching tires, and the pounding of your heart echoing in your ears. The Men's Black Leather Jacket is your armor, your partner in this exhilarating adventure.
With the durability of premium genuine leather, this jacket embodies an outer shell that not only adds style but also stands the test of time. The soft lambskin leather embraces your body, molding it to your form and providing ultimate comfort. The intense black color puts forward an air of mystery and sophistication, while the quilted shoulders showcase your fearless nature.
As you zip up the front closure, you feel a surge of excitement, ready to conquer any challenge that comes your way. The four outside pockets offer convenient storage for your essentials, while the two inside pockets keep your secrets hidden. The viscose lining caresses your skin, providing a cozy refuge amidst the chaos.
Whether you're on a quest for justice or exploring uncharted territories, the Genuine Leather Jacket Men's your faithful companion. It's a symbol of your determination, resilience, and unwavering spirit. Gear up, embrace the thrill, and let your actions speak louder than words.
Outer Shell: Genuine Leather
Leather Type: Sheep skin
Color : Brown
Inner : Quilted viscose lining
Closure Style: Front Zipper Closure
Pockets : Four outside and two inside pockets
Sizes : XS to 5XL
Jacket Care
Do not store this jacket on direct light of the sun and hot temperature.
Do not store in plastic bags and vinyl bags, store in breathable cloth bags.
Keep away from heat sources, like heathers, radiators and blow dryers.
Do not rub or brush the jacket when it's wet.
Do not use bleach and stuff, just always go to a cleaner that specializes in leather products.
Size Guide
Shipping & Return
We Deliver through fastest courier service available such as DHL, FedEx, Skynet, TNT. & DPEX worldwide depending upon the buyer's location. with a tracking number from which you can track your product online.
Our Products are reached 7-12 (business day) to its destination customized product Takes 7-14 (business day)
Note: We do not ship to PO Box Number please provide us with your complete address while ordering.