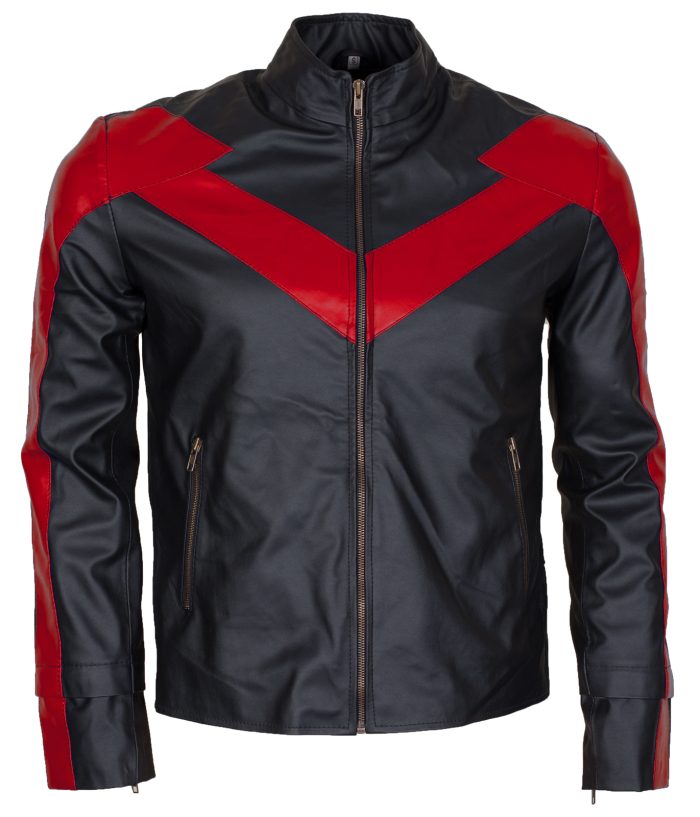 Dick Grayson Red Nightwing Faux Leather Jacket
$109.95 – $179.95
Description
Dick Grayson Red Nightwing Faux Leather Jacket
Embark on a nocturnal odyssey with the Dick Grayson Red and Black Nightwing Jacket, a marvel of design that fuses style and heroism in a symphony of craftsmanship. This jacket sewn with faux leather, is an ode to the enigmatic vigilante known as Nightwing, a testament to his indomitable spirit and relentless pursuit of justice.
Immerse yourself in a world of shadows and secrets as the bold color scheme of black and red wraps around you like a cloak of mystery. The black base, reminiscent of the night sky, conceals your intentions, while the vibrant red accents ignite a fire within, symbolizing your passion for righteousness. It's a visual masterpiece that commands attention and exudes an aura of power.
Feel the rush of adrenaline as you zip up the jacket, sealing yourself in a fortress of strength and resilience. The zipper closure becomes a metaphorical gateway to transformation, allowing you to unleash your inner hero whenever the call to action arises. Every movement is unrestricted, thanks to the open cuffs that give you the freedom to perform gravity-defying feats and awe-inspiring stunts.
The collar style strikes a perfect balance between comfort and sophistication, embracing your neck with a subtle embrace that is both timeless and empowering. It's a reminder that heroes are not defined by their attire alone but by their unwavering resolve and unwavering dedication to justice.
As you slip into this Nightwing Costume, the soft viscose lining becomes a sanctuary, a cocoon of tranquility amidst the chaos of the city streets. It's a gentle reminder that even in the darkest of nights, there is always a glimmer of hope, a guiding light that leads you toward a better tomorrow. Embrace practicality without sacrificing style with the two exterior pockets and two interior pockets that offer ample storage for your essentials.
So, answer the call of the night and don our Dick Grayson Jacket. Let it be a symbol of your unwavering dedication to justice, an emblem of your unyielding spirit, and a testament to your undying resolve. With each wear, you step closer to becoming the hero you were always destined to be.
Material: Real Leather or Faux Leather
Closure Style: Zipper.
Cuffs Style: Open.
Collar Style: Normal.
Inner Shell: Viscose Lining.
Color: Black &Blue.
Available Sizes: All.
Free Shipping WorldWide!