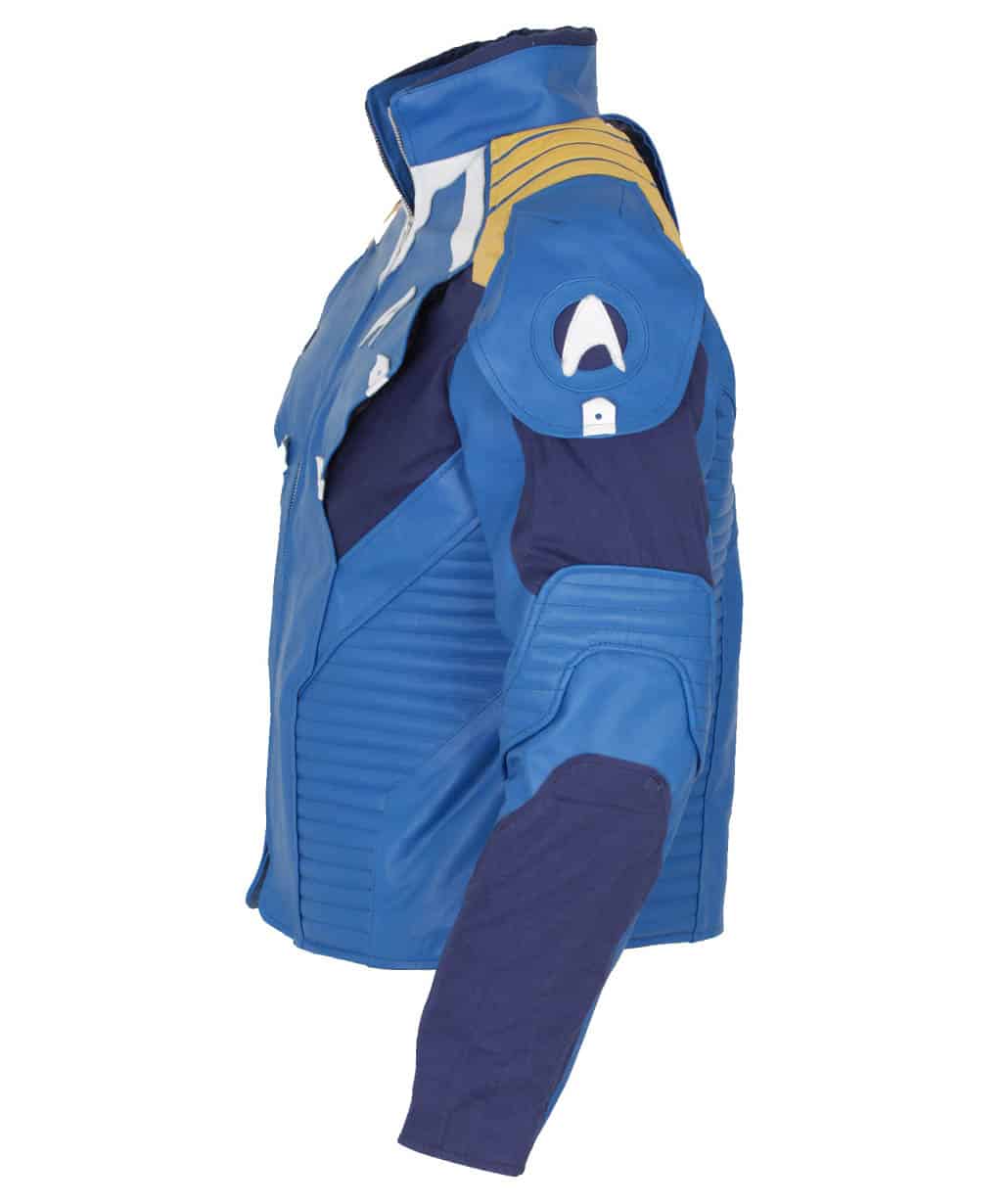 Chris Pine Star Trek Beyond Captain Kirk Jacket
$149.00 – $199.00
Inspired By: Star Trek Beyond
Worn By: Chris Pink as Captain Kirk
Material: Genuine leather or Faux Leather
Lining: Premium lining
Star Trek logo on Front
Color : Blue
Stitching: Quilted stitching on sleeves and front
Front: YKK zip closure
Shoulders: Yellow stripes, patches
Waist: Padded details at waistline
Description
Size Guide
Reviews (0)
Description
Chris Pine Star Trek Beyond Captain Kirk Blue Leather Jacket
Let's dive into the captivating world of Star Trek Beyond, where the boundaries of exploration are pushed even further. Among the beloved characters, Captain Kirk, portrayed by the talented Chris Pine, shines as a beacon of leadership and courage.
As an ardent fan of this extraordinary web series, it's impossible not to admire the resilience and charm of Captain Kirk. He fearlessly leads his crew through uncharted territories, facing challenges head-on with unwavering determination.
In the realm of fashion, Star Trek Beyond brings forth a remarkable piece that echoes Captain Kirk's iconic style; the Chris Pine Star Trek Captain Kirk jacket. Crafted from genuine leather, this jacket gives a sense of adventure and sophistication.
Featuring a vibrant blue color that captures the essence of the Starfleet uniform, this jacket showcases the Star Trek logo on the front, proudly representing the beloved series. The quilted stitching on the sleeves and front adds a touch of futuristic detailing, while the yellow stripes and patches on the shoulders pay homage to Starfleet insignia.
With its padded details at the waistline and a front YKK zip closure, this jacket combines both style and functionality. It serves as a symbol of the boldness and resilience embodied by Captain Kirk and his crew.
The Chris Pine Star Trek Beyond blue jacket invites fans to embrace the spirit of exploration and adventure. If you're attending a sci-fi convention or simply expressing your love for Star Trek, this jacket allows you to step into the shoes of Captain Kirk while making a stylish statement. So, gear up, set your sights on the final frontier, and let your fandom soar to new heights!
Size Guide