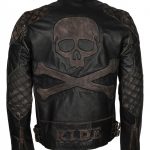 Men's Skull Embossed Vintage Bikers Motorcycle Leather Jacket
Specifications:
Outer Shell: Real Leather
Leather Type: Cowhide
Color: Black
Inner: Quilted viscose lining
Closure Style: Front Zipper Closure
Pockets: Four outside and two inside pockets
Sizes: XS to 5XL
Description
Jacket Care
Size Guide
Shipping & Return
Reviews (8)
Description
Skull Leather Jacket for Men
At USA Leather Factory, we provide a huge range of leather jackets to suit the needs of customers with different tastes. This vintage leather biker skull leather jacket with an embossed skull and bones is perfect for a variety of occasions as well as times of the year.
This jacket can serve as an amazing attire for everyday activities. The finishing of the jacket also makes it great for winters. One can also rely on this jacket on a night out in town. Because of its suitability for a variety of occasions, this jacket is especially durable and will last for years.
The embossed skull is a reflection of the edginess of the jacket as well as its suitability for looking to get a jacket with an edgy and fun twist.
Comfort is a major necessity for biker jackets, and this skull leather jacket has a high comfort score. The fittings of the jacket were made with expertise and technology that allows the highest comfort level. Even when worn for extended periods, one is sure of the most minimal discomfort from this jacket.
The protective features of the biker skull leather Jacket include the buttons, zippers and other forms of fastening. The linings of the jacket are also part of its protective features ensuring comfort during winter and on a night out in the town or a particularly cold day.
Made in the finest quality cowhide leather which lasts for a year. An amazing and tough material, We find this jacket perfect for men who are seeking functional and comfortable jackets with a comfortable feel. Durability is also a strong point of this jacket. This vintage black leather skull embossed jacket is built for the man who wants to look good and feel good.
Jacket Care
Do not store this jacket on direct light of the sun and hot temperature.
Do not store in plastic bags and vinyl bags, store in breathable cloth bags.
Keep away from heat sources, like heathers, radiators and blow dryers.
Do not rub or brush the jacket when it's wet.
Do not use bleach and stuff, just always go to a cleaner that specializes in leather products.
Size Guide
Shipping & Return
We Deliver through fastest courier service available such as DHL, FedEx, Skynet, TNT. & DPEX worldwide depending upon the buyer's location. with a tracking number from which you can track your product online.
Our Products are reached 7-12 (business day) to its destination customized product Takes 7-14 (business day)
Note: We do not ship to PO Box Number please provide us with your complete address while ordering.