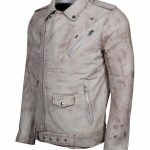 Iconic White Waxed Vintage Biker Jacket
$169.00
Specification:
Outer Shell: Genuine Leather
Leather Type: Sheepskin
Color: White
Inner: Viscose lining
Closure Style: Front Zipper Closure
Pockets: Four outside and two inside pockets
Sizes: XS to 5XL
Free Worldwide shipping
Description
Iconic White Waxed Vintage Biker Jacket for Men
If you're looking for a perfect vintage biker jacket, then look no further. Iconic White Waxed Vintage Biker Jacket is the best option for you. From style to manufacturing, this jacket won't fail to impress you in any aspect.
Feel the taste of vintage style
Vintage style, white color, and a waxed look, what a killer combination these are. Nobody can deny the charm of vintage clothing. You can grab everyone's attention with contemporary clothing as well. If you want to make a style statement that people will remember after years, then vintage clothing is the best choice.
It's made from genuine sheep leather, so you can expect the quality to be outstanding. The designers have paid a lot of attention to design as well. From color to zippers to buttons, everything perfectly complements each other to enhance this jacket's overall look. The belt allows you to adjust the fitting as needed. The inner viscose lining will keep you highly comfortable while wearing this vintage leather jacket.
Buy now to get your money's worth
USA Leather Factory ensures that dream clothing should never fall heavy on your pocket. To make it easy for you to get your desired jacket, it is available at an affordable price. Moreover, you'll get free shipping and 30 days money-back guarantee in case you're not happy with your purchase. So, what are you waiting for? Order this classy and stylish jacket today!
Jacket Specification
Outer Shell: Genuine Leather
Leather Type: Sheepskin
Color: White
Inner: Viscose lining
Closure Style: Front Zipper Closure
Pockets: Four outside and two inside pockets
Sizes: XS to 5XL
Free Worldwide shipping