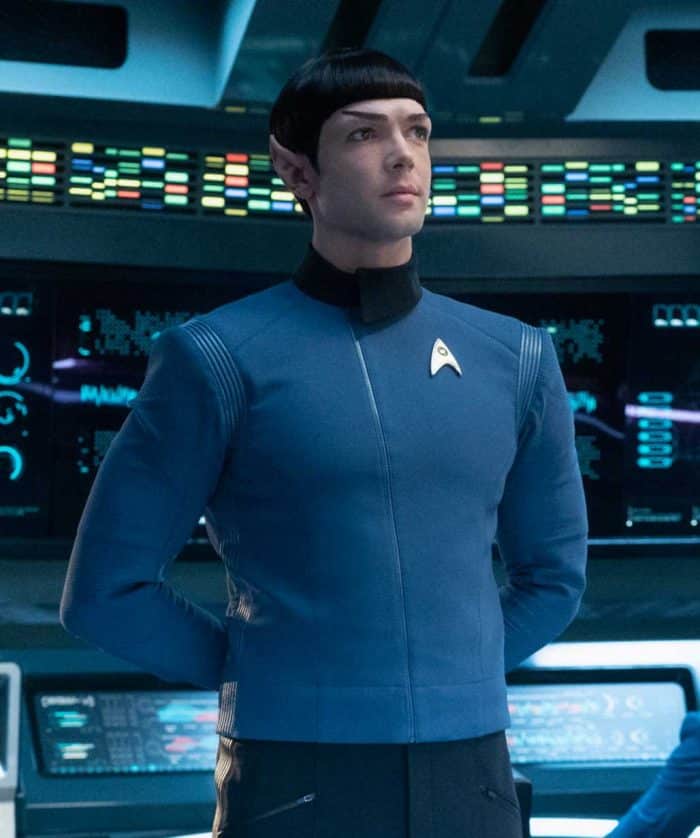 Star Trek Strange New Worlds Spock Blue Jacket
$158.00
Inspired By: Star Trek Strange New Worlds
Worn by: Spock played by Ethan Peck
Material: Wool Blend Fabric
Inner: Soft Viscose Lining
Color: Blue
Front: Zipper Closure
Collar: Stand-Up Style Collar
Sleeves: Full-Length
Sizes: XS to 5XL
Description
Star Trek Strange New Worlds Spock Blue Jacket
Ah, the enigmatic Spock, the pointy-eared wonder of the Star Trek universe, now brought to life by the talented Ethan Peck in Star Trek Strange New Worlds! With his logical mind and stoic demeanor, Spock is the Vulcan we all secretly wish we could be – I mean, who wouldn't want to rock those eyebrows with such precision?
Now, prepare to embrace your inner Vulcan with the Star Trek Spock blue jacket. Embedded with Wool Blend Fabric, this jacket is as cozy as Spock's favorite logic puzzles, warm enough to handle the cold depths of space, yet stylish enough to impress even the most discerning Klingon.
And let's talk about that color! Blue, the hue of tranquility, just like Spock's composed demeanor amidst all the space-faring chaos. Slip into this jacket, and you'll feel like you could meditate your way out of any interstellar quandary.
With a zipper closure, it's easier to don than uttering "live long and prosper," and the stand-up style collar adds an extra touch of intergalactic chic. With full-length sleeves, your arms will be protected on any daring away mission or stroll through the cosmos.
But the real question is, does it come with a built-in Vulcan mind meld? Sadly, no. But wearing this jacket will make you feel like you have all the wisdom and logic of a seasoned Vulcan diplomat – which, let's be honest, is pretty darn cool!
So, whether you're exploring new worlds or just making a stellar fashion statement at your local space station, the Star Trek Strange New Worlds Spock Jacket is your ticket to embracing your inner Vulcan with flair and finesse. So, boldly go where no one has gone before and make Spock proud by adding this out-of-this-world jacket to your wardrobe!