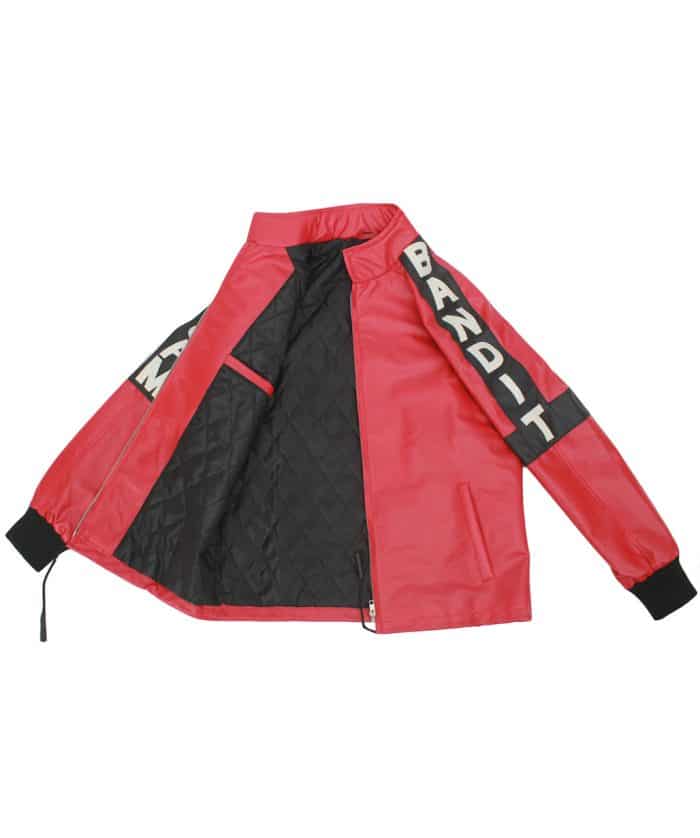 Smokey and the Bandit Men Red Faux Leather Jacket
Description
Jacket Care
Size Guide
Shipping & Return
Reviews (0)
Description
Smokey and the Bandit Men Red Faux Leather Jacket
In a world where movies are more than just stories – they're legends. Enter Burt Reynolds, a name that effortlessly commands attention. His role in "Smokey and the Bandit" isn't just a character; it's an experience. Rewind to 1977, and you've got a film that not only defines his charm but etches its mark in cinematic history.
In the driver's seat, Reynolds becomes the magnetic Bandit, a trucker with charisma to spare. The plot? A daring mission to transport smuggled beer across state lines. With law enforcement on his tail, the movie treats us to a rollercoaster of laughs, suspense, and genuine feelings.
What Reynolds brings to Bandit is pure magic. He's not just steering a truck; he's steering hearts. Bandit evolves into a symbol of freedom, rebellion, and a dash of devil-may-care spirit. The result? A character adored by generations.
And, that red faux leather jacket Reynolds sports become more than an outfit; it's an icon. Vibrant red and effortlessly cool, it's the essence of Bandit himself. And now, you can step into that essence with the Smokey and the Bandit Men's red faux leather jacket.
Designed with meticulous care, it boasts faux leather on the outside, showcasing style, and sturdiness. The bold red hue? It's your ticket to confidence and adventure, echoing the Bandit's vibe. Inside, a cozy viscose lining guarantees comfort, making it your go-to for any occasion.
Equipped with a zipper closure, two external pockets, and two inside pockets, this jacket marries practicality and style like a match made in movie heaven. Ranging from XS to 5XL, it's tailored for everyone. And don't forget the cherry on top: free worldwide shipping, so the Bandit's flair can reach you anywhere.
The Smokey and the Bandit Men's Red Faux Leather Jacket is your chance to embody that legacy. Slip it on, hit the road, and let adventure be your co-pilot.
Outer Shell: Faux Leather
Color : Red
Inner : Viscose lining
Closure Style: Front Zipper Closure
Pockets : Two outside and two inside pockets
Sizes : XS to 5XL
Free Worldwide shipping
Jacket Care
Do not store this jacket on direct light of the sun and hot temperature.
Do not store in plastic bags and vinyl bags, store in breathable cloth bags.
Keep away from heat sources, like heathers, radiators and blow dryers.
Do not rub or brush the jacket when it's wet.
Do not use bleach and stuff, just always go to a cleaner that specializes in leather products.
Size Guide
Shipping & Return
We Deliver through fastest courier service available such as DHL, FedEx, Skynet, TNT. & DPEX worldwide depending upon the buyer's location. with a tracking number from which you can track your product online.
Our Products are reached 7-12 (business day) to its destination customized product Takes 7-14 (business day)
Note: We do not ship to PO Box Number please provide us with your complete address while ordering.