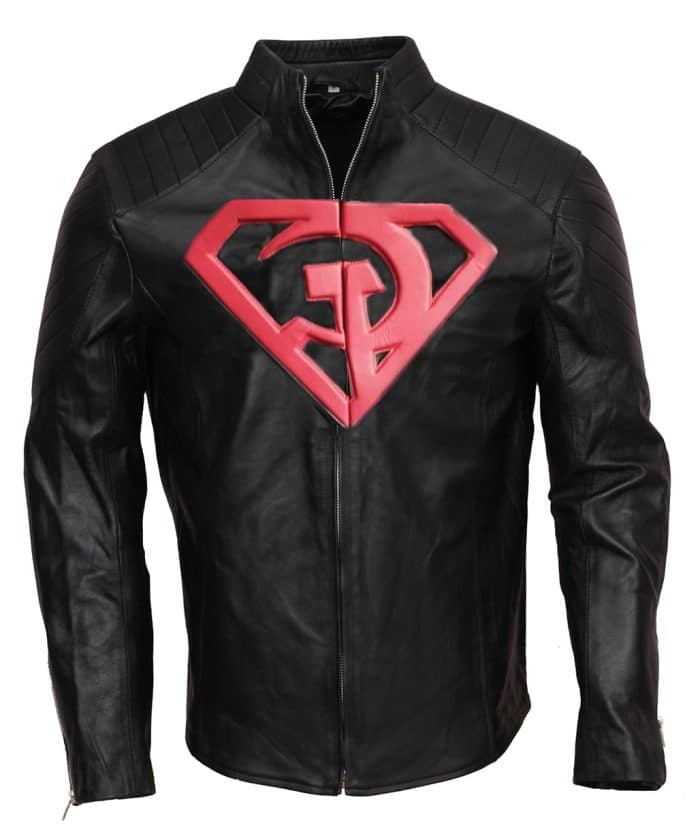 Red Son Superman Costume Black Leather Jacket
$119.00 – $169.00
Outfit Type; Cosplay jacket
Inspired By: Superman Red Son
Material: Faux Leather or Real Leather
Inner: Viscose Lining
Front: Zip Closure
Color: Black with Red Logo
Pockets: Two outside and two inside pockets
Sizes: XS to 5XL
Description
Red Son Superman Costume Black Leather Jacket Costume
Have you ever thought, "What if Superman the famous hero didn't land in Kansas?" "Superman Red Son" spins that tale, exploring an alternative universe where the Man of Steel's spacecraft crash-lands in the Soviet Union. Instead of fighting for "truth, justice, and the American way", he becomes a beacon for socialism and the Cold War's tensions.
The storyline is intriguing. That's because it offers a fresh perspective on the iconic character, allowing us to see Superman in a different light. While it may not be the usual, it's certainly packed with action, drama, and an engaging plot. The movie earned itself a solid 6.7 rating and given its fresh take on a beloved character.
If you're eager to see this alternative Superman tale, it's available for you on Max. You will appreciate the performances that bring depth and dimensions to characters we thought we knew.
The fans can't help but notice the Red Son Superman Costume Black Leather Jacket. The sleek faux leather, snug viscose lining, and a bold red logo on pitch-black. It's not just an ordinary cosplay costume; it's a declaration. And with sizes from XS to 5XL, everyone can join in on the fun. Even if you're heading to a cosplay event or just want to wear this Superman Red Son costume on a night out, this jacket's got you covered.
So, are you in for a twist on an age-old tale and a killer jacket to match? Buy this Superman Red Black Jacket right now!