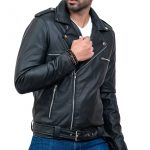 Negan Real Cowhide Motorcycle Leather Jacket
$159.00
Outer Shell: Real Leather
Color : Black
Inner : Premium lining
Closure Style: Front Zipper Closure
Pockets : Four outside and two inside pockets
All Sizes Available
Top Quality Product
30 days money back guarantee
Description
Jacket Care
Size Guide
Shipping & Return
Reviews (2)
Description
Negan Real Cowhide Motorcycle Leather Jacket
Fans get excited when they get a chance to follow their favorite celebrity's fashion sense. The designers at USA Leather Factory work hard to make this fantasy a reality. Negan Real Cowhide Motorcycle Leather Jacket is the result of this hard work.
Get Negan Scout's Style
Jeffery Dean Morgan played the character of Negan Scout in a famous TV series "The Walking Dead." His style is still admired by his fans. This stylish jacket is a perfect attire to make an impression in parties, hangouts, casual, formal events, and more. The shine this jacket has is stunning. The white zippers and buttons over the black jacket surface look good.
Moreover, the waist has an adjustable belt for adjusting the fitness as per your choice. The most amazing aspect of this jacket is that you'll get two different looks when the zipper is closed and open. It has two inside and four outside pockets. As it's crafted from genuine leather, you can completely be sure of the quality in terms of comfort and durability.
It is purely handmade and so perfectly stitched that you'll have Negan Stock's real jacket's vibes. And this is the goal of our designers to make you more confident and contented in your favorite outfit.
Buy now at an amazing price
If you're expecting that it's a celebrity-inspired outfit so the price must be very high, then you're wrong. This premium quality jacket is available at an affordable price with free shipping at USA Leather Factory.
Jacket Specifications:
Outer Shell: Real Leather
Color: Black
Inner: Premium lining
Closure Style: Front Zipper Closure
Pockets: Two outside and two inside pockets
All Sizes Available
Top Quality Product
30 days money-back guarantee
Jacket Care
Do not store this jacket on direct light of the sun and hot temperature.
Do not store in plastic bags and vinyl bags, store in breathable cloth bags.
Keep away from heat sources, like heathers, radiators and blow dryers.
Do not rub or brush the jacket when it's wet.
Do not use bleach and stuff, just always go to a cleaner that specializes in leather products.
Size Guide
Shipping & Return
We Deliver through fastest courier service available such as DHL, FedEx, Skynet, TNT. & DPEX worldwide depending upon the buyer's location. with a tracking number from which you can track your product online.
Our Products are reached 7-12 (business day) to its destination customized product Takes 7-14 (business day)
Note: We do not ship to PO Box Number please provide us with your complete address while ordering.