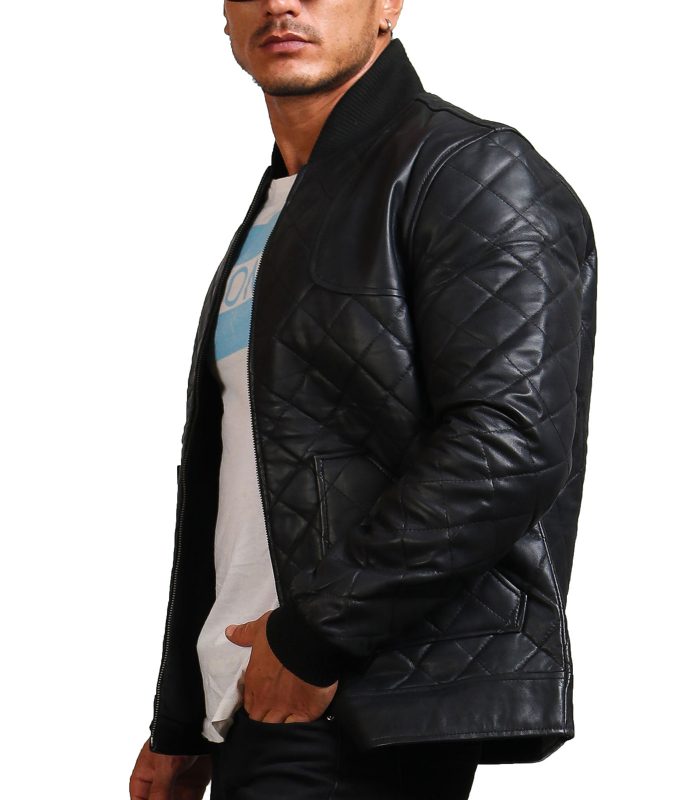 David Beckham Quilted Black Leather Jacket
Outer Shell: Real Leather
Color : Black
Inner : Premium lining
Closure Style: Front Zipper Closure
Pockets : Two outside and two inside pockets
All Sizes Available
Top Quality Product
30 days money back guarantee
Description
Jacket Care
Size Guide
Shipping & Return
Reviews (2)
Description
David Beckham Quilted Black Leather Jacket
Celebrities give us major outfit goals, and many people want to follow the style statement of their favorite celebrities. USA Leather Factory's celebrity-inspired jackets are particularly crafted to turn this dream into a reality. David Beckham Quilted Black Leather Jacket is designed with absolute perfection to elevate your style.
Get David Beckham's Style
David Beckham is a well-known personality when it comes to style. If you're his fan, you can't deny that the style sense that David Beckham has is unmatched. And this David Beckham Quilted Black Leather Jacket is one of his most famous attires.
The USA Leather Factory designers have paid attention to even minor details to design a perfect celebrity-inspired attire. It is crafted from real leather, and you can have an idea about the real good quality from the shine that this jacket has. It's purely handmade, and the stitching is so good that it will make anyone envious of your style.
It's not loaded with many accessories, just like David Beckham's. The minimal design and the classy black color give you real David Beckham's style vibes. Our designers haven't just given all their attention to style but comfort as well. So, you'll get a great piece without spending much.
Buy Now To Enhance Your Personality
Choose your perfect size and get this jacket at an affordable price to impress everyone with your style. Plus, you'll have 30 days money-back guarantee with free shipping. And an amazing discount on your second purchase from us.
Jacket Specifications:
Outer Shell: Real Leather
Color: Black
Inner: Premium lining
Closure Style: Front Zipper Closure
Pockets: Two outside and two inside pockets
All Sizes Available
Top Quality Product
30 days money-back guarantee
Jacket Care
Do not store this jacket on direct light of the sun and hot temperature.
Do not store in plastic bags and vinyl bags, store in breathable cloth bags.
Keep away from heat sources, like heathers, radiators and blow dryers.
Do not rub or brush the jacket when it's wet.
Do not use bleach and stuff, just always go to a cleaner that specializes in leather products.
Size Guide
Shipping & Return
We Deliver through fastest courier service available such as DHL, FedEx, Skynet, TNT. & DPEX worldwide depending upon the buyer's location. with a tracking number from which you can track your product online.
Our Products are reached 7-12 (business day) to its destination customized product Takes 7-14 (business day)
Note: We do not ship to PO Box Number please provide us with your complete address while ordering.