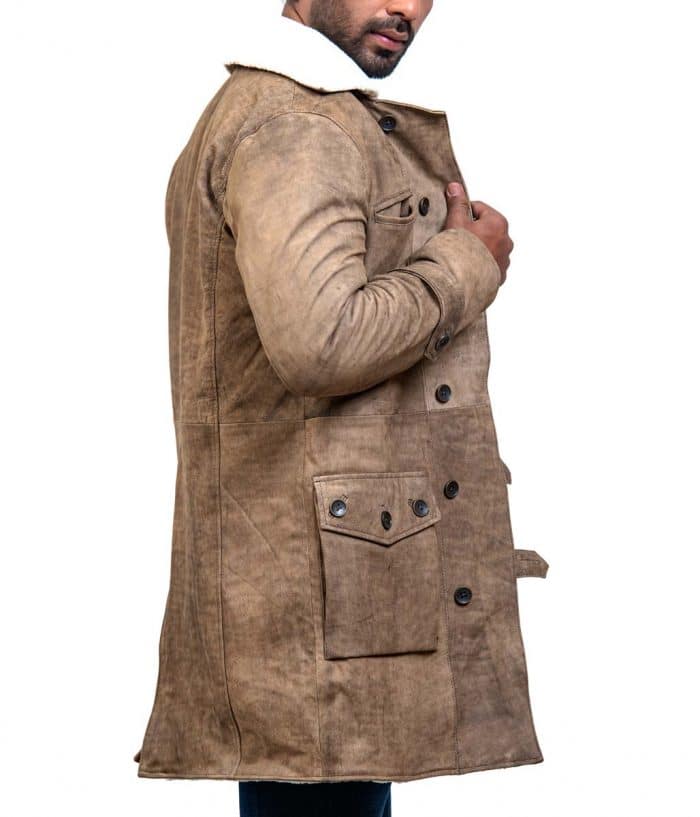 Bane Distressed Brown Cowhide Fur Winter Leather Coat
$189.00
Specification
Outer Shell: Real Leather
Color: Brown
Inner: Premium lining
Closure Style: Front Button Closure
Pockets: Four  outside and two inside pockets
All Sizes Available
Top Quality Cow Leather and Fur Lining
30 days money-back guarantee
Description
Jacket Care
Size Guide
Shipping & Return
Reviews (1)
Description
Brown Fur Bane Distressed Leather Winter Coat for Men
For all the "Dark Knight Rises" fans, we proudly present Bane Distressed Brown Cowhide Fur Winter Leather Coat. This coat is as iconic as the character of Bane himself. This coat a must-have if you like to collect Batman series items.
Declare your passion
We always come up with unique and high-quality products to fulfill the lust of fans. This Bane Distressed Brown Cowhide Fur Winter Coat is identical to the one Bane wore in the Dark Knight Rises. All of its stitching and lining are precise, as the coat is shown in the movie. Bane has a separate fanbase, and we acknowledges it quite well. If Bane's strong character inspired you too then, this coat would help you declare your passion.
This coat not only looks very classy, but it also feels very premium. The outer shell of this jacket is made up of genuine leather. The color is brown, just like the one in the Dark Knight Rises movie. The premium lining on the inner side makes you feel very comfortable. You get four pockets on the outside and two inside that give you plenty of space to keep your stuff.
Buy now at an affordable price
You can compare the quality of this coat with bespoke custom-made coats. It's well worth the price tag. Here at USA Leather Factory, we aim to provide the best quality items at very affordable prices. Owning Bane's coat is a dream for many, and we help in making it true.
Coat Specification
Outer Shell: Real Leather
Color: Brown
Inner: Premium lining
Closure Style: Front Button Closure
Pockets: Four  outside and two inside pockets
All Sizes Available
Top Quality Cow Leather and Fur Lining
30 days money-back guarantee
Jacket Care
Do not store this jacket on direct light of the sun and hot temperature.
Do not store in plastic bags and vinyl bags, store in breathable cloth bags.
Keep away from heat sources, like heathers, radiators and blow dryers.
Do not rub or brush the jacket when it's wet.
Do not use bleach and stuff, just always go to a cleaner that specializes in leather products.
Size Guide
Shipping & Return
We Deliver through fastest courier service available such as DHL, FedEx, Skynet, TNT. & DPEX worldwide depending upon the buyer's location. with a tracking number from which you can track your product online.
Our Products are reached 7-12 (business day) to its destination customized product Takes 7-14 (business day)
Note: We do not ship to PO Box Number please provide us with your complete address while ordering.