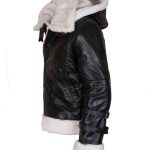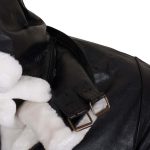 Men's Fur Lined B3 Bomber Black Leather Jacket
Outer Shell: Real Leather
Leather Type: Sheepskin
Color: Black
Inner: Fur  lining
Closure Style: Front Zipper Closure
Pockets: two outside and two inside pockets
Sizes: XS to 5XL
Description
Jacket Care
Size Guide
Shipping & Return
Reviews (4)
Description
B3 Fur Lined Bomber Black Leather Jacket
The sheepskin B3 bomber leather jacket introduced in WWII for aviator flying fighter pilots. At that time, it kept warm to crewmen while flying at high altitudes in unpressurized cabins. Now, everyone loves to wear it in the winter season. As you know, trend changes season after season. Therefore, it comes with some variation in the color, design, and texture of the inner fur lining. Most people like to wear this eye-catching leather jacket in winter because it specially made with high-quality real sheepskin for extreme winters. Moreover, it is popular due to its design and style. Its leather material ensures its longevity and resistibility.
Fur Lined B3 Bomber Jacket keeps you warm and comfortable in extreme winter. If style, durability, and comfort is your top priority, then this black color B3 bomber jacket is ideal for you. It comes with a front zipper closure, and two outside and two inside pockets that keep your belongings safe. It also has adjustable belted straps at the waist to adjust your jacket according to your body shape. Its side-entry handwarmer pockets keep your hand warm in cold weather. It is available in XS to 5XL sizes. You should see the size chart before purchase. You will get this jacket at the lowest price of $199.00 with Free Shipping.
Shop Now
If you want a men's fur-lined B3 bomber jacket from a reliable site, then contact USA Leather Factory. Our manufacturer makes ever-lasting impressive leather jackets for trend followers. Our highly experienced artists and advanced machinery crafted well-designed, and stylish leather jackets at the best cost that not burden our customers. Therefore, we never compromise on quality. We offer free shipping all around the world for your ease. Before our stock out, hurry up, contact us, and get your warm leather jacket.
B3 Bomber Leather Jacket Specification:
Outer Shell: Real Leather
Leather Type: Sheepskin
Color: Black
Inner: Fur  lining
Closure Style: Front Zipper Closure
Pockets: two outside and two inside pockets
Sizes: XS to 5XL
Jacket Care
Do not store this jacket on direct light of the sun and hot temperature.
Do not store in plastic bags and vinyl bags, store in breathable cloth bags.
Keep away from heat sources, like heathers, radiators and blow dryers.
Do not rub or brush the jacket when it's wet.
Do not use bleach and stuff, just always go to a cleaner that specializes in leather products.
Size Guide
Shipping & Return
We Deliver through fastest courier service available such as DHL, FedEx, Skynet, TNT. & DPEX worldwide depending upon the buyer's location. with a tracking number from which you can track your product online.
Our Products are reached 7-12 (business day) to its destination customized product Takes 7-14 (business day)
Note: We do not ship to PO Box Number please provide us with your complete address while ordering.